I had McDonald's for lunch last Friday and I upsized my meal to get the free World Cup 2010's glass (see picture below).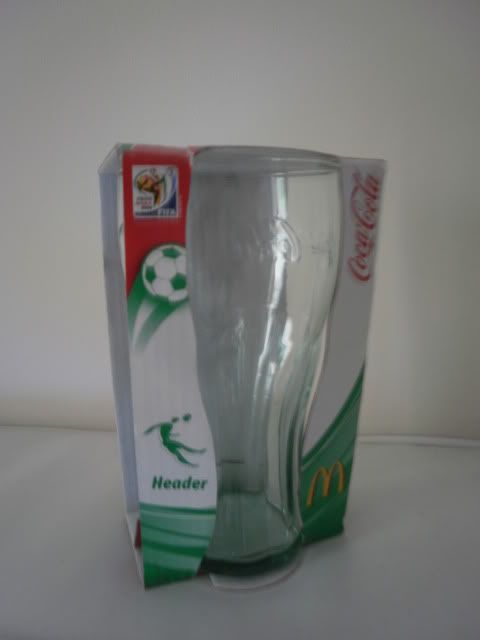 I couldn't finished my fries so I packed it up to go and headed to the supermarket to get some fruits. 
Oranges didn't look good but I was desperate for some Orangy Vitamin Cs so I just got a few. Think the bad weather previously resulted the bad harvest - there were no local oranges and the local apples didn't look good too. 
At the cashier's counter, I placed the bag of oranges, my World Cup glass and my fries down as I searched for the $10 bill. The cashier picked up and scanned the oranges, then she tried to scan my french fries! She flipped the bag of fries over and over to look for the code to scan but couldn't find. Obviously she could not find the code as my fries was not from the supermarket. I repeated thrice to her that that was french fries from McDonald's. She took a while to realize the message that I was trying to bring across. 
That was not the end, she took my World Cup glass and repeated her actions all over again. "Oh my... " was all I could say... I told her once again that the glass was from McDonald's and not from the supermarket. Then did she 'wake up' suddenly. 
Strange huh... Maybe she was too tired from the work... maybe she was trying to play a trick on me... maybe it was really my fault for placing the glass and fries on the counter... maybe...