woo hoo ~~ Back to gohsteven.blogspot.com !!
The moblogging contest is not over yet but i suppose i will be out pretty soon. Firstly, i don't like the idea of using $$ to vote. Kind of meaningless since those with more friends and $$ can just vote and vote and vote and vote and vote... Then, i don't like to ask people to vote because i asked them to. Kind of begging them to vote... no point lah seriously... but for those who did, remember to claim your free hugs from me !! haha...
Got the book, "The Singapore Story" by Mr Lee KY from the library. Yes, i know it is kind of late for me to read it now, especially it has been released long long time ago and there's even a 2nd one. But then, better late than never right ??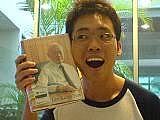 Almost done with it, and it really opened my eyes to Spore's history. It was really a tough period of time then, with the riots, PAP dealing with the Malaya government and eventually gaining Independence. Tough time. It is hard to imagine that Chinese and Malays were at loggerhead during the 60's. So we must really appreciate the peace that we are enjoying now. Yes, we must.
Haiz... remember LingZhi ?? She has joined fm1003. I don't like it. Can't accept the fact that she has joined the other side. Yes, i know it might be good for her since a change of environment can push her career up and up... not to mention more $$. But it is weird lah, especially she started DJ-ing from Mediacorp.
And to those who have left for IA, GIP to the various parts of the world... i will miss you people, take care leh and be back soon !!